You will need
- 900 g of salmon or other red fish to your taste (without bones and skin);
- 1 onion;
- 2 cups of breadcrumbs;
- 1 tbsp. capers;
- 1 egg;
- 2 tbsp. mayonnaise;
- greens to taste;
- 1 tbsp. mustard;
- 1.5-2 tbsp. lemon juice;
- 1 tbsp. chili sauce;
- 1.5 tbsp. salts;
- 1.5 tbsp. pepper;
- to taste butter (for frying meatballs).
Instruction
Finely chop the onion and fry a little. The color of the finished onion should be golden.
If you take whole fish, remove the skin and bones from the fillets. Grind fillets in a grinder, and if there is none, you can chop them finely with a knife.
Place the fish in a deep bowl and add breadcrumbs (one and a half cups, leave the rest aside). Add all the remaining products, except butter, here, you will be frying the cutlets on it.
Mix everything thoroughly and make cutlets from the mixture. The resulting patties roll in the remaining breadcrumbs (0.5 cups) and fry the patties in a heated frying pan.
Do not forget to pour the oil into the pan and allow it to warm up too, before spreading the patties.The total time of readiness is 6 minutes.
note
From the listed ingredients you can make 10 patties.
Tip 2: Red and white fish cutlets
Red and white fish cutlets are very refined and tender. In addition, they are very easy to cook.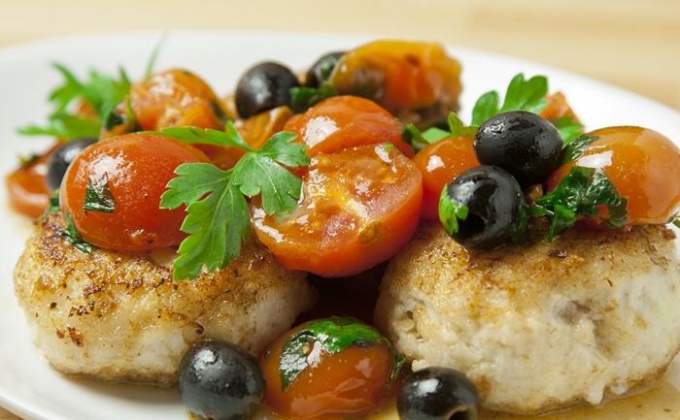 You will need
- 300 g white fish fillet
- 300 g salmon fillet (can be trout)
- 200 ml of milk with a fat content of 3.2%
- 1 loaf of white bread
- 2 eggs
- 2 medium onions
- 1 cup of breadcrumbs for roasting
- bunch of greens (parsley, dill, cilantro, etc.)
- salt and pepper to taste
Instruction
Fish in turn need to skip through a meat grinder. The result will be red and white stuffing.
The loaf must be broken into pieces and pour with milk, let it brew. At the same time, you should give the bow to a light golden crust.
The softened loaf should be pressed, mixed with onions and divided into 2 parts. One part together with the egg and chopped greens should be put in white stuffing, the other with the egg, but without greens - in red. All salt and pepper and mix.
The process of making cutlets begins. For this, a small flat cake, about the size of a palm, is formed from minced meat.
In the middle of the cakes you need to put a piece of white stuffing.
At the end, it is necessary to wrap the white mince red, thereby forming a ball, which then should be rolled in breadcrumbs and fry in a frying pan, heated with oil, for 3-5 minutes on each side.
Served meatballs as a side dish with rice or mashed potatoes. The dish can be decorated with a sprig of greenery.
Related news
Master Class: Decorative Balloon
Salad in parmesan baskets
How to cook pancakes from rye flour
What is dangerous Favorite diet
Secure Needle
Calico wedding anniversary
Scary and beautiful Halloween crafts made from pumpkin and plasticine, paper and cardboard do-it-yourself to school and kindergarten