Tip 3: How to cook delicious baked pork
Who does not like pork? Everyone loves her, and you want something new, because the usual recipes are already fed up. Pork, cooked for this recipe, will appeal to all your home.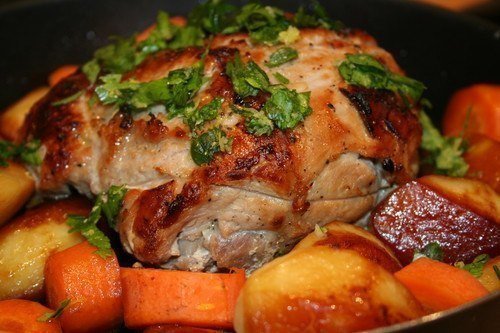 You will need
-1.5 kg of pork
Marinade:
- 2 cloves of garlic
- 1 onion
- 1 tbsp. honey
- 2 tbsp. vinegar
- salt, chili pepper
Garnish:
- 500-1000 g of potatoes
- 500 g carrots
- garlic
- lemon peel
- greenery
Instruction
Prepare the meat: wash it well and thaw it. Cook the marinade. To do this, peel the onions and garlic, chop. Mix in a deep dish vinegar, honey, chili, salt, pepper and onion. Then mix and rub the meat with the mixture. Cover the meat tightly and place in the refrigerator for several hours. If you wish, for the night. Do not forget to turn the meat in the marinade every hour, it is necessary so that all meat is marinated well.
Remove the meat from the fridge and peel the marinade, onion and garlic.Prepare a baking sheet. Put the meat on the form, and place in the oven for 15-20 minutes.
Take out the meat, pour it with the juice that has appeared, then pour the marinade without onions on it, only the liquid. Then again send in the oven for 15 minutes. While the meat is in the oven, peel the potatoes. It is advisable to take small, as it will look beautiful.
Remove the meat and spread the potatoes around it, stir it in the marinade that is in shape. Send to the oven for another 15 minutes. Peel and grate the carrot, after 15 minutes add it to all the ingredients, send to the oven for 20 minutes.
In order for the meat was not dry, you need to water it with juice that is released during cooking.
Related news
Where did the last name come from?
How to combine products with health benefits
Master class on the restoration of the kitchen
Executive office - saving on buying
Delicious recipes - cook with love